January 17, 2021
Second Sunday after the Epiphany
For those worshipping at home, please feel free to stand for the parts of the service marked with an asterisk (*) and to recite the responses in bold.
For those worshipping in the Sanctuary, please remain seated throughout the service. Feel free to quietly recite the response to the scripture reading, the Affirmation of Faith, and the Lord's Prayer, while keeping your mask on. Please do not engage in singing. Please remain seated through the postlude. Following the postlude, the minister will signal that the services is over, and the ushers will signal that you may leave down the side aisles and exit according to the signs.
PRELUDE
Yeri So, organ
La Grace (Mercy), TWV 50
George Phillip Telemann (1681-1767)
CALL TO WORSHIP
Psalm 139
Rev. Larry Hayward
O LORD, you have searched me and known me.
You know when I sit down and when I rise up;
you discern my thoughts from far away.
You search out my path and my lying down,
and are acquainted with all my ways.
Even before a word is on my tongue,
O LORD, you know it completely.
You hem me in, behind and before,
and lay your hand upon me.
Such knowledge is too wonderful for me;
it is so high that I cannot attain it.
Let us worship God.
*HYMN
"O God of Every Nation"
LLANGLOFFAN
1 O God of every nation,
of every race and land,
redeem the whole creation
with your almighty hand.
Where hate and fear divide us
and bitter threats are hurled,
in love and mercy guide us
and heal our strife-torn world.
2 From search for wealth and power
and scorn of truth and right,
from trust in bombs that shower
destruction through the night,
from pride of race and station
and blindness to your way,
deliver every nation,
eternal God, we pray.
3 Lord, strengthen those who labor
that all may find release
from fear of rattling saber,
from dread of war's increase;
when hope and courage falter,
your still small voice be heard;
with faith that none can alter,
your servants undergird.
4 Keep bright in us the vision
of days when war shall cease,
when hatred and division
give way to love and peace,
till dawns the morning glorious
when truth and justice reign
and Christ shall rule victorious
o'er all the world's domain.
Words: William W. Reid, Jr. (1923-2007) © 1958, ren. 1986 The Hymn Society (admin. Hope Publishing Company)
Music: Welsh folk melody; Llwybrau Moliant, 1872; harm. The English Hymnal, 1906
PRAYER OF CONFESSION
God, whose justice rolls down like waters
and righteousness like an ever-flowing stream,
Forgive us when we speak in monologues instead of dialogue
and are silent about things that matter.
Heal us when we are more devoted to order than justice,
and prefer a negative peace which is the absence of tension
to a positive peace which is the presence of equity and fairness.
Remind us that injustice anywhere is a threat to justice everywhere,
and that we are caught in an inescapable network of mutuality and tied in a single garment of destiny.
Though the arc of the moral universe is long, bend us,
so that our living turns to what is right and pleasing in the full vision of your sight.
We pray this for our benefit, and the benefit of all.
Please continue in silent prayer.
KYRIE ELEISON

*GLORIA PATRI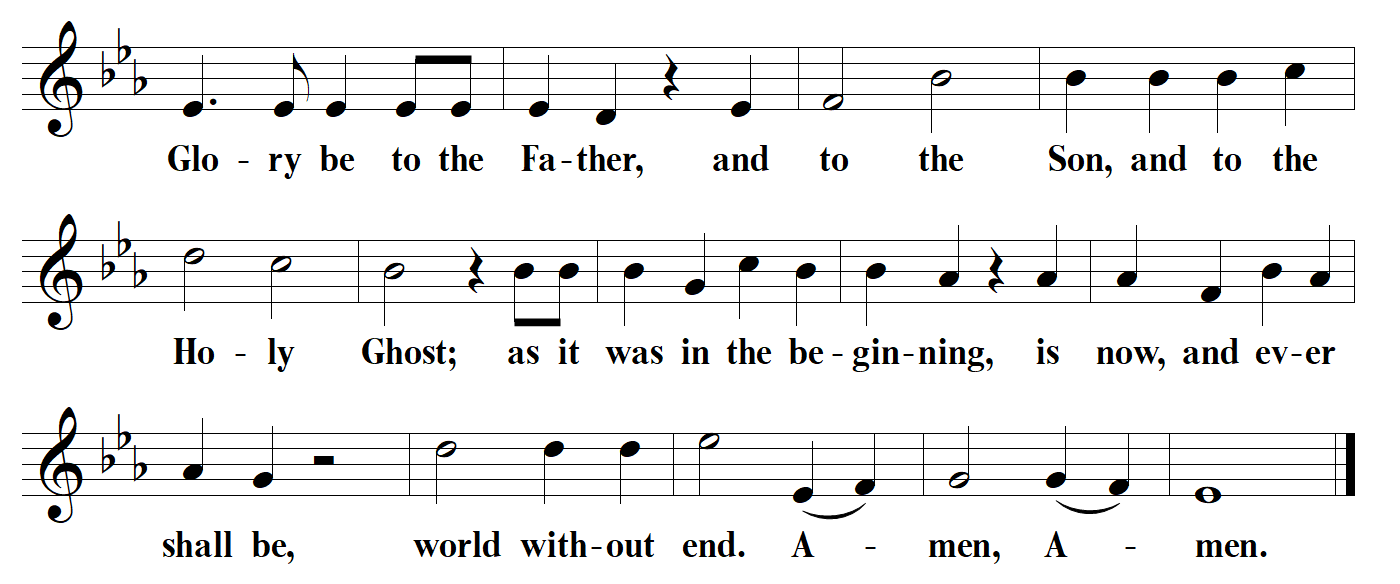 WELCOME AND LIFE OF THE CHURCH
---
SCRIPTURE
1 Samuel 3:1-10
Now the boy Samuel was ministering to the Lord under Eli. The word of the Lord was rare in those days; visions were not widespread. At that time Eli, whose eyesight had begun to grow dim so that he could not see, was lying down in his room; the lamp of God had not yet gone out, and Samuel was lying down in the temple of the Lord, where the ark of God was. Then the Lord called, "Samuel! Samuel!" and he said, "Here I am!" and ran to Eli, and said, "Here I am, for you called me." But he said, "I did not call; lie down again." So he went and lay down. The Lord called again, "Samuel!" Samuel got up and went to Eli, and said, "Here I am, for you called me." But he said, "I did not call, my son; lie down again." Now Samuel did not yet know the Lord, and the word of the Lord had not yet been revealed to him. The Lord called Samuel again, a third time. And he got up and went to Eli, and said, "Here I am, for you called me." Then Eli perceived that the Lord was calling the boy. Therefore Eli said to Samuel, "Go, lie down; and if he calls you, you shall say, 'Speak, Lord, for your servant is listening.'" So Samuel went and lay down in his place. Now the Lord came and stood there, calling as before, "Samuel! Samuel!" And Samuel said, "Speak, for your servant is listening."
This is the Word of the Lord.
Thanks be to God.
RESPONSE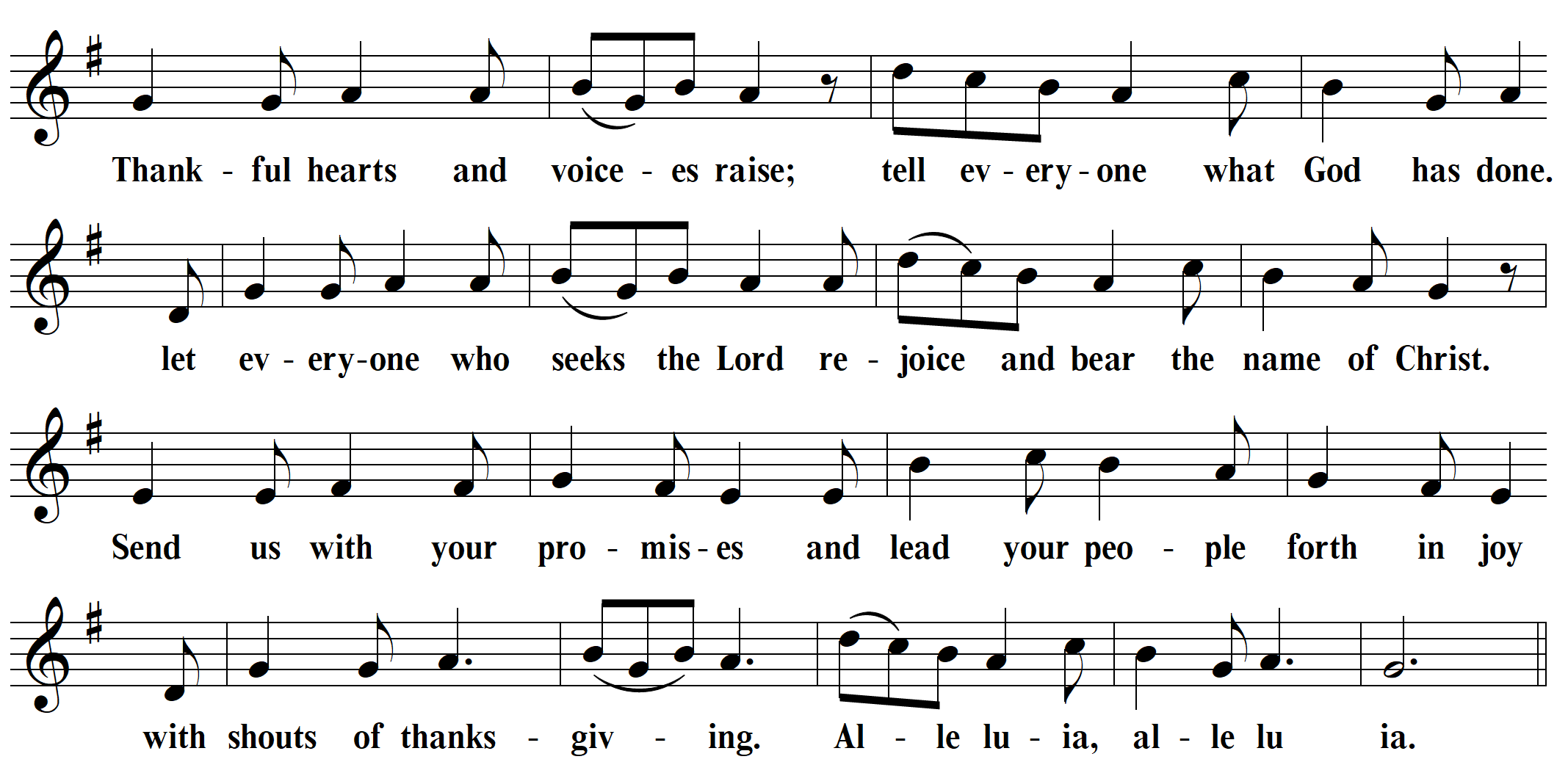 SERMON
Eli and Ancestry
Rev. Patrick Hunnicutt
MUSIC
"There's A Wideness in God's Mercy"
Words: Frederick William Faber, 1814-1863 (alt.)
Music: John Zundel, 1815-1882 (alt.)
There's a wideness in God's mercy
like the wideness of the sea;
there's a kindness in his justice,
which is more than liberty.
There is welcome for the sinner,
and more graces for the good;
there is mercy with the Savior;
there is healing in his blood.
There is no place where earth's sorrows
are more felt than up in heaven;
there is no place where earth's failings
have such kindly judgment given.
There is plentiful redemption
in the blood that has been shed;
there is joy for all the members
in the sorrows of the Head.
For the love of God is broader
than the measure of the mind;
and the heart of the Eternal
is most wonderfully kind.
If our love were but more faithful,
we should take him at his word;
and our life would be thanksgiving
for the goodness of the Lord.
*AFFIRMATION OF FAITH
From the Belhar Confession of Faith
We believe in one holy, universal Christian Church, the communion of saints called from the entire human family. We believe that Christ's work of reconciliation is made manifest in the Church as the community of believers who have been reconciled with God and with one another; that unity is, therefore, both a gift and an obligation for the Church of Jesus Christ; that through the working of God's Spirit it is a binding force, yet simultaneously a reality which must be earnestly pursued and sought: one which the people of God must continually be built up to attain. This unity must become visible so that the world may believe that separation, enmity and hatred between people and groups is sin which Christ has already conquered, and accordingly that anything which threatens this unity may have no place in the Church and must be resisted.
PASTORAL PRAYER AND THE LORD'S PRAYER
Our Father, who art in heaven; hallowed be Thy name. Thy kingdom come. Thy will be done; on earth as it is in heaven. Give us this day our daily bread. And forgive us our debts; as we forgive our debtors. And lead us not into temptation; but deliver us from evil; for Thine is the kingdom, and the power, and the glory, forever. Amen.
*DOXOLOGY

*HYMN
"Lift Every Voice and Sing"
LIFT EVERY VOICE
1 Lift every voice and sing till earth and heaven ring,
ring with the harmonies of liberty.
Let our rejoicing rise high as the listening skies;
let it resound loud as the rolling sea.
Sing a song full of the faith that the dark past has taught us;
sing a song full of the hope that the present has brought us.
Facing the rising sun of our new day begun,
let us march on, till victory is won.
2 Stony the road we trod, bitter the chastening rod,
felt in the days when hope unborn had died.
Yet, with a steady beat, have not our weary feet
come to the place for which our parents sighed?
We have come over a way that with tears has been watered;
we have come, treading our path through the blood of the slaughtered,
out from the gloomy past, till now we stand at last
where the white gleam of our bright star is cast.
3 God of our weary years, God of our silent tears,
thou who hast brought us thus far on the way;
thou who hast by thy might led us into the light,
keep us forever in the path, we pray.
Lest our feet stray from the places, our God, where we met thee;
lest, our hearts drunk with the wine of the world, we forget thee;
shadowed beneath thy hand may we forever stand,
true to our God, true to our native land.
Words: James Weldon Johnson (1871-1938)
Music: J. Rosamond Johnson (1873-1954)
POSTLUDE
"Postlude on a theme of Orlando Gibbons Op.105, No.2"
Charles Villiers Stanford (1852-1924)
---
Worship Notes
---
Participating in today's service are Rev. Larry Hayward, Pastor; Rev. Patrick Hunnicutt, Associate Pastor; Dr. Ben Hutchens, Director of Music Ministries; Yeri So, Assistant Director of Music Ministries. Special thanks to Jim Buchanan, Vince Crisler, and Alex Bryant for production of today's livestream.
Today's flowers have been dedicated by Anne Tomlinson in memory of Johnny Harper and Kenneth & Rebecca Tomlinson.
The Prayer of Confession and Assurance of Pardon are adapted from writings and speeches by Dr. Martin Luther King Jr.
Permission to print and stream the music in this service obtained from One License with license #A-724912.
Next Sunday
---
January 24, 2021
Third Sunday after the Epiphany
11:00am
Sermon
At Hand
Mark 1:14-20
Rev. Larry Hayward