May 9, 2021
Sixth Sunday of Easter
Sacrament of Communion
For those worshipping at home, please feel free to stand for the parts of the service marked with an asterisk (*) and to recite the responses in bold.
For those worshipping in the Sanctuary, please remain seated throughout the service. Feel free to quietly recite the response to the scripture reading, the Affirmation of Faith, and the Lord's Prayer, while keeping your mask on. Please do not engage in singing. Please remain seated through the postlude. Following the postlude, the minister will signal that the services is over, and the ushers will signal that you may leave down the side aisles and exit according to the signs.
PRELUDE
Westbrook Walsh, cello
"Song my mother taught me"
Antonín Dvořák (1841-1904)
CALL TO WORSHIP
Rev. Patrick Hunnicutt
What shall we return to the Lord,
For all the good things God has done for us?
We will lift up the cup of salvation,
And call on the name of the Lord.
Praise the Lord; the Lord's name be praised.
Let us worship God.
HYMN
"Blessed Assurance, Jesus Is Mine!"
ASSURANCE
Words: Fanny Jane Crosby (1820-1915)
Music: Phoebe Palmer Knapp (1839-1908)
1 Blessed assurance, Jesus is mine!
Oh, what a foretaste of glory divine!
Heir of salvation, purchase of God,
born of his Spirit, washed in his blood.
Refrain:
This is my story, this is my song,
praising my Savior all the day long.
This is my story, this is my song,
praising my Savior all the day long.
2 Perfect submission, perfect delight,
visions of rapture now burst on my sight.
Angels descending bring from above
echoes of mercy, whispers of love. Refrain
3 Perfect submission, all is at rest.
I in my Savior am happy and blest,
watching and waiting, looking above,
filled with his goodness, lost in his love. Refrain
PRAYER OF CONFESSION
Psalm 51
Have mercy on us, O God, in your great kindness:
In the fullness of your mercy blot out our offenses.
Wash away all our guilt, and cleanse us from our sin.
Do not cast us away from your presence:
Do not take your Holy Spirit from us.
Give us the joy of your help again:
And strengthen us with a willing spirit.
Then we will teach transgressors your ways:
And sinners will turn to you again.
You desire no sacrifice, or we would give it:
But you take no delight in burnt offerings.
The sacrifice acceptable to God is a broken spirit:
A broken and contrite heart, O God, you will not despise.
Please continue in silent prayer.
KYRIE ELEISON

GLORIA PATRI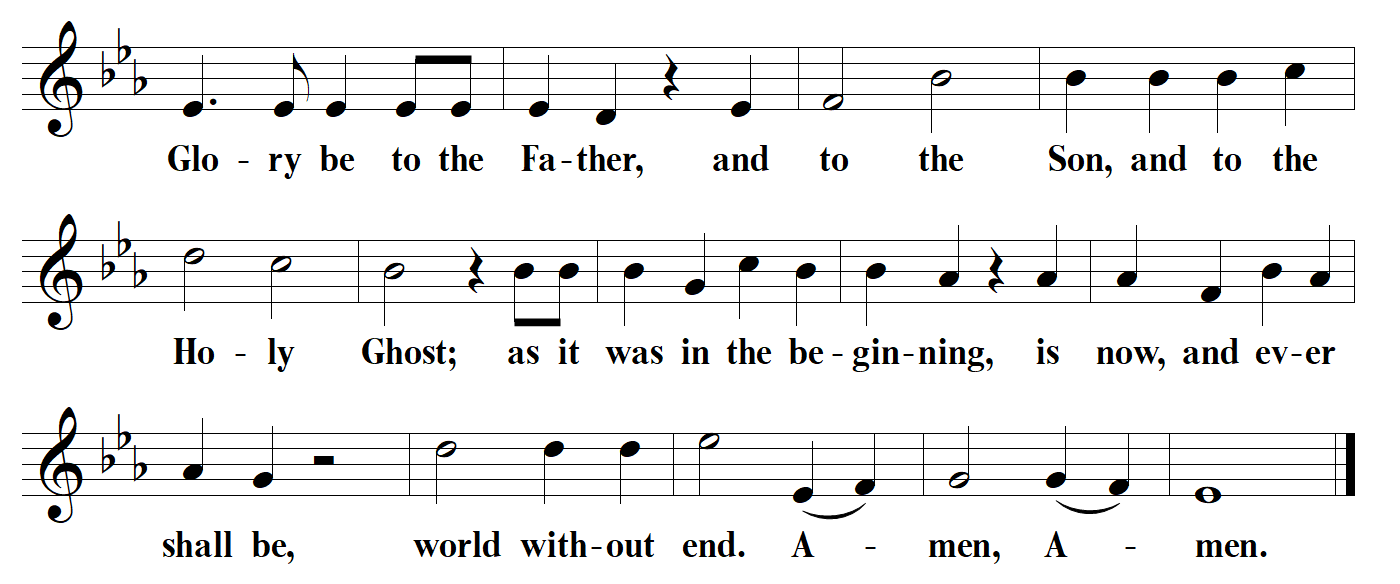 WELCOME AND LIFE OF THE CHURCH
---
CALL FOR OFFERING AND PRAYER OF THANKSGIVING
*DOXOLOGY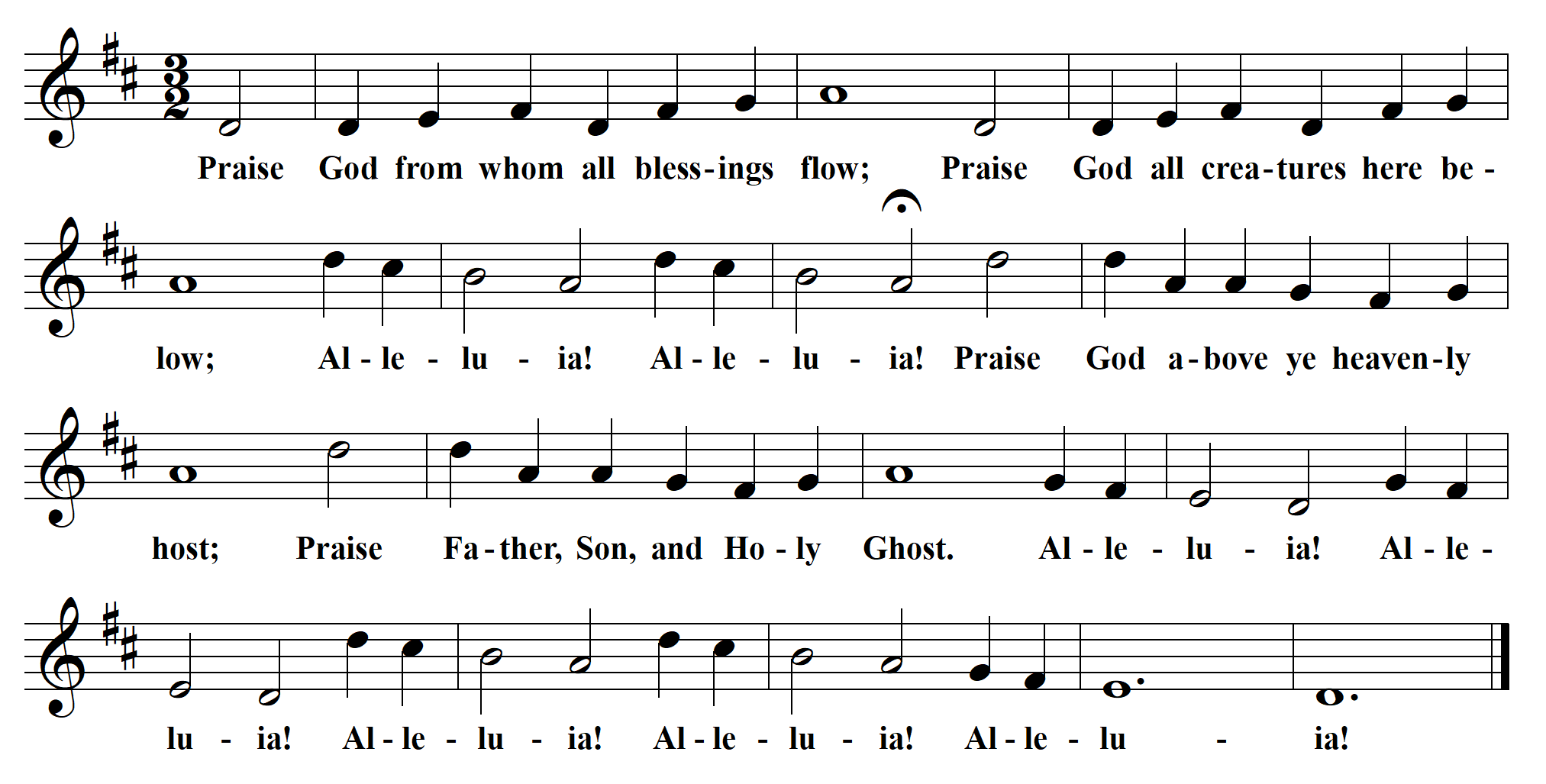 SCRIPTURE
1 John 5:1-5
Everyone who believes that Jesus is the Christ has been born of God, and everyone who loves the parent loves the child. By this we know that we love the children of God, when we love God and obey his commandments. For the love of God is this, that we obey his commandments. And his commandments are not burdensome, for whatever is born of God conquers the world. And this is the victory that conquers the world, our faith. Who is it that conquers the world but the one who believes that Jesus is the Son of God?
This is the Word of the Lord.
Thanks be to God.
RESPONSE

SERMON
Faith Conquers the World
Rev. Dr. Larry Hayward
*HYMN
"In Christ There Is No East or West"
MC KEE
Words: John Oxenham (1852-1941)
Music: African American spiritual; Jubilee Songs, 1884; adapt. Harry T. Burleigh, 1940
1 In Christ there is no east or west,
in him no south or north,
but one great fellowship of love
throughout the whole wide earth.
2 In Christ shall true hearts everywhere
their high communion find;
his service is the golden cord
close-binding humankind.
3 Join hands, disciples of the faith,
whate'er your race may be.
All children of the living God
are surely kin to me.
4 In Christ now meet both east and west;
in him meet south and north.
All Christly souls are one in him
throughout the whole wide earth.
SACRAMENT OF HOLY COMMUNION
For those worshipping in-person, please return your communion cups to the recycle bin as you leave the sanctuary.
The Lord be with you.
And also with you.
Lift up your hearts.
We lift them to the Lord.
Let us give thanks to the Lord our God.
It is right to give our thanks and praise.
SANCTUS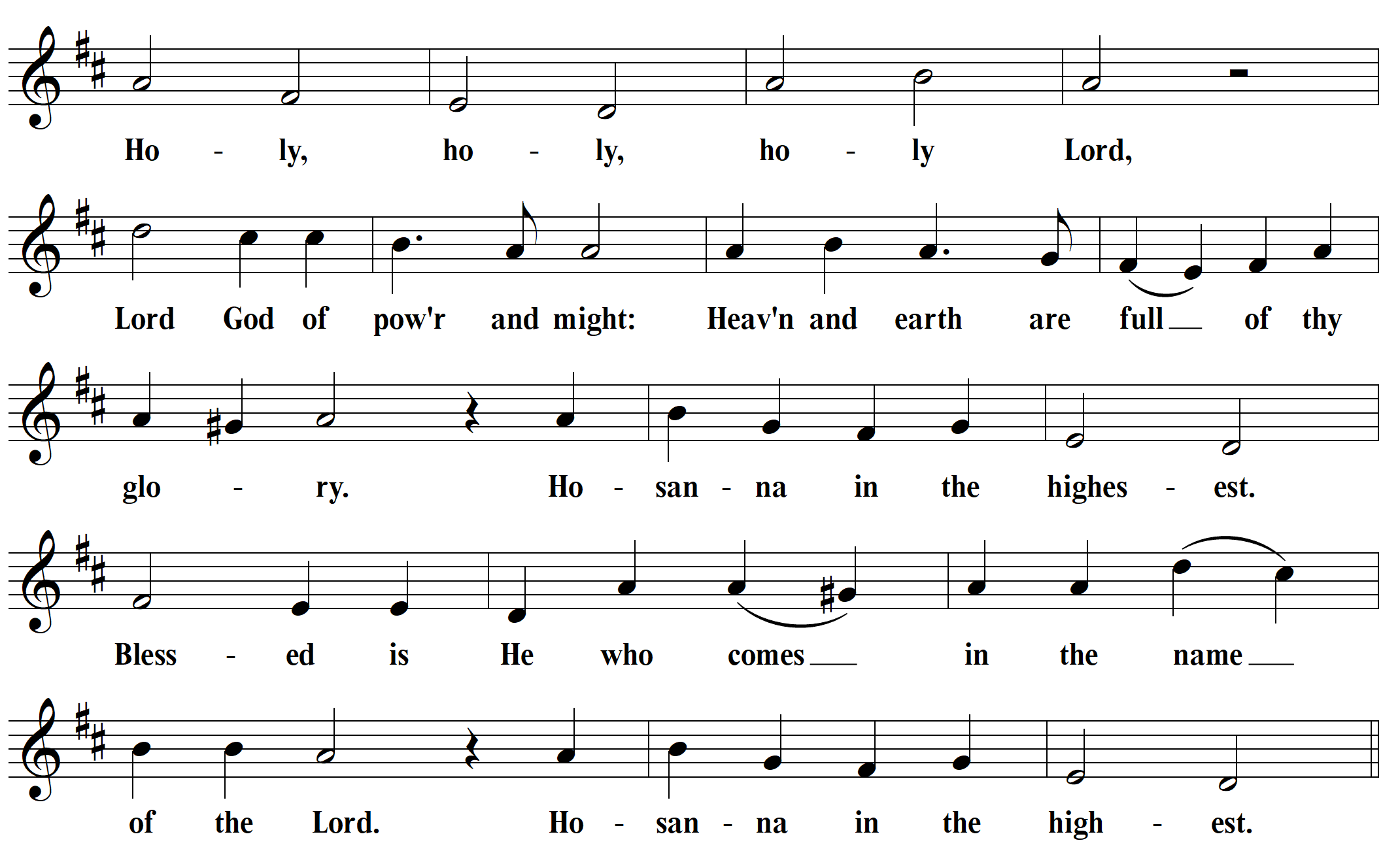 THE LORD'S PRAYER
Our Father, who art in heaven; hallowed be Thy name. Thy kingdom come. Thy will be done; on earth as it is in heaven. Give us this day our daily bread. And forgive us our debts; as we forgive our debtors. And lead us not into temptation; but deliver us from evil; for Thine is the kingdom, and the power, and the glory, forever. Amen.
MUSIC
Vocal Quartet
"Love bade me welcome"
Roland E. Martin (b.1955)
Love bade me welcome: yet my soul drew back,
Guilty of dust and sin.
But quick-eyed Love, observing me grow slack
From my first entrance in,
Drew nearer to me, sweetly questioning
If I lacked anything.
"A guest," I answered, "worthy to be here":
Love said, "You shall be he."
"I, the unkind, ungrateful? Ah, my dear,
I cannot look on thee."
Love took my hand, and smiling did reply,
"Who made the eyes but I?"
"Truth, Lord; but I have marred them; let my shame
Go where it doth deserve."
"And know you not," says Love, "who bore the blame?"
"My dear, then I will serve."
"You must sit down," says Love, "and taste my meat."
So I did sit and eat.
Words by George Herbert (1593-1633)
*HYMN
"To God Be the Glory"
TO GOD BE THE GLORY
Words: Fanny Jane Crosby (1820-1915)
Music: William Howard Doane (1832-1915)
1 To God be the glory;
great things he has done!
So loved he the world
that he gave us his Son,
who yielded his life
an atonement for sin,
and opened the life-gate
that all may go in.
Refrain
Praise the Lord, praise the Lord;
let the earth hear his voice!
Praise the Lord, praise the Lord;
let the people rejoice!
O come to the Father
through Jesus the Son,
and give him the glory:
great things he has done!
2 Great things he has taught us;
great things he has done,
and great our rejoicing
through Jesus the Son;
but purer and higher
and greater will be
our wonder, our transport,
when Jesus we see. Refrain
POSTLUDE
Postlude on "Old Hundredth"
Fred Bock (1939-1998)
---
Worship Notes
---
Participating in today's service are Rev. Dr. Larry Hayward, Pastor; Rev. Patrick Hunnicutt, Associate Pastor; Dr. Ben Hutchens, Director of Music Ministries; Yeri So, Assistant Director of Music Ministries; Westbrook Walsh, cello; Heather, Stan, & Tara West, vocalists; Debbie Wells, chair, Team Whitney; Livestream team.
Today's flowers have been given by Doug Whittington & Lynne Allison in memory of Doug's dad, Raymond, on his birthday.
Permission to print the music in this service obtained from One License with license #A-724912.
---
Next Sunday
Seventh Sunday of Easter
May 16, 2021
11:00am
The Testimony of God Is Greater
1 John 5:6-13
Rev. Dr. Larry Hayward