September 21, 2021 at 8:30am
Twenty-sixth Sunday in Ordinary Time
*Please stand as you are able.
The people's responses are in bold.
CALL TO WORSHIP
Psalm 117:1-2
Praise the Lord, all you nations; laud him, all you peoples.
For God's loving-kindness towards us is great,
And the faithfulness of the Lord endures forever.
Let us worship God.
*HYMN 645
"Sing Praise to God Who Reigns Above"
MIT FREUDEN ZART
Words: Johann Jacob Schütz (1640-1690); trans. Frances Elizabeth Cox, 1864, alt.
Music: Bohemian Brethren's Kirchengesang, 1566; harm. Maurice F. Bell, 1906, alt.
1 Sing praise to God who reigns above,
the God of all creation,
the God of power, the God of love,
the God of our salvation.
With healing balm my soul is filled,
and every faithless murmur stilled:
to God all praise and glory!
2 What God's almighty power has made
God's gracious mercy keepeth;
by morning glow or evening shade
God's watchful eye ne'er sleepeth.
Within the kingdom of God's might,
lo! all is just and all is right:
to God all praise and glory!
3 The Lord is never far away,
but, through all grief distressing,
an ever-present help and stay,
our peace and joy and blessing,
as with a mother's tender hand
God gently leads the chosen band:
to God all praise and glory!
4 Thus all my toilsome way along
I sing aloud thy praises,
that all may hear the grateful song
my voice unwearied raises.
Be joyful in the Lord, my heart;
both soul and body, take your part:
to God all praise and glory!
PRAYER OF CONFESSION
Rev. Patrick Hunnicutt
Almighty and merciful God,
We have erred and strayed from your ways like lost sheep.
We have followed too much
The devices and desires of our own hearts.
We have offended against your holy laws.
We have left undone those things which we ought to have done;
And we have done those things which we ought not to have done;
And there is no health in us.
O Lord, according to your promises
Declared to the world in Christ Jesus our Lord,
Have mercy upon us.
Spare us as we confess our faults.
Restore us as we become penitent.
And grant, O merciful God, for the sake of Jesus Christ,
That we may live a holy, just, and humble life
To the glory of your holy name.
Please continue in silent prayer.
KYRIE ELEISON
Words: Lutheran Book of Worship © 1978 | Music: Ronald A. Nelson (b. 1929)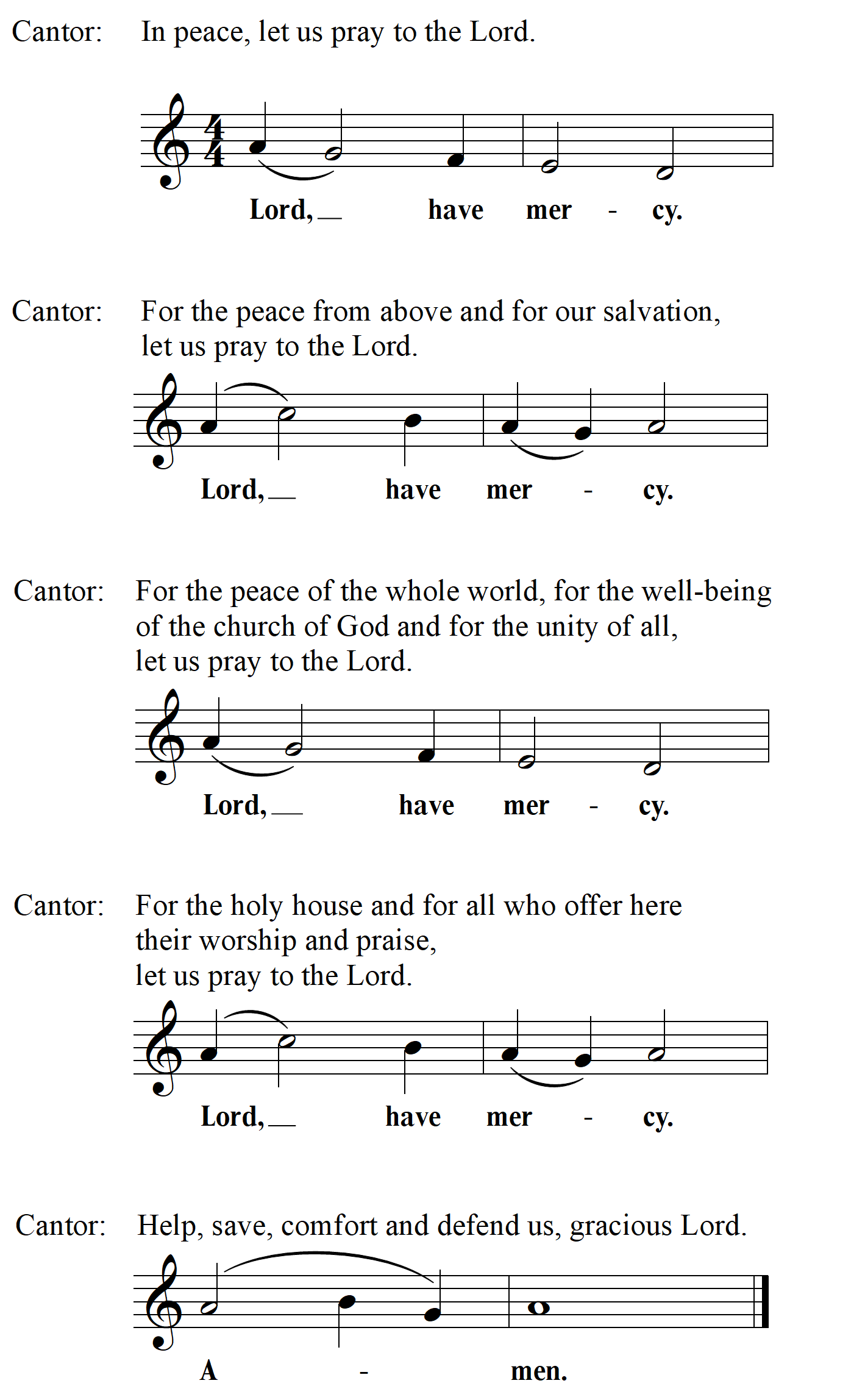 *GLORIA PATRI
Words: Trad. Liturgical Text | Music: Henry W. Greatorex (1813-1858)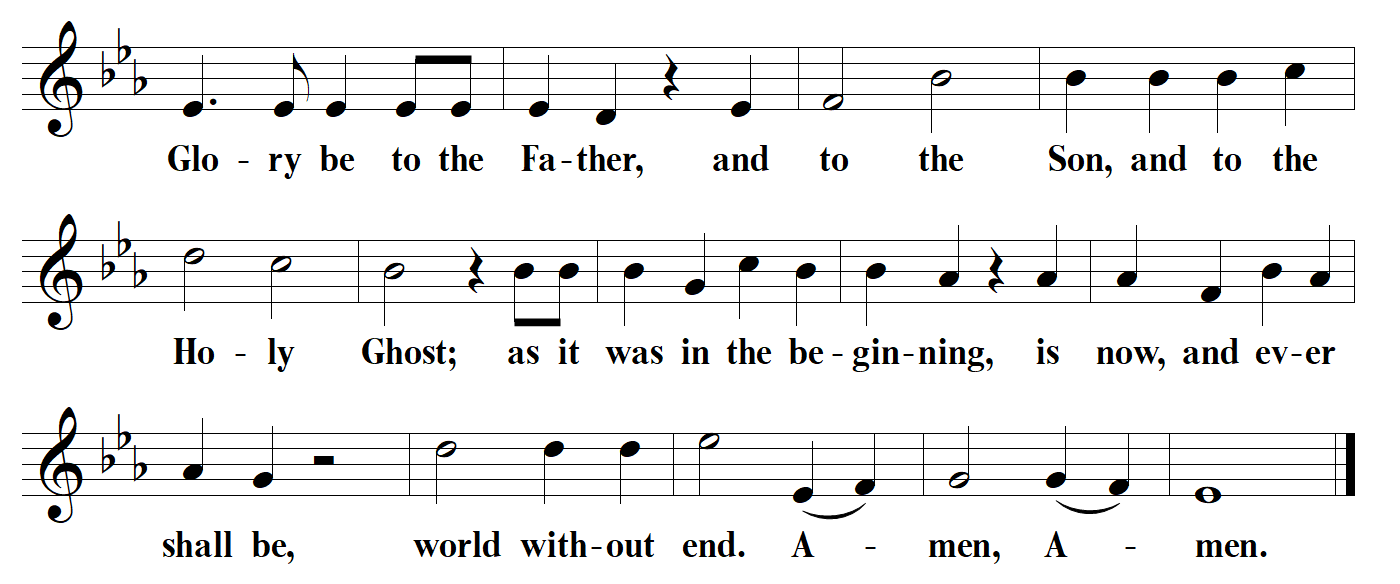 WELCOME AND LIFE OF THE CHURCH
---
SCRIPTURE
1 Corinthians 1:18-25
For the message about the cross is foolishness to those who are perishing, but to us who are being saved it is the power of God. For it is written, "I will destroy the wisdom of the wise, and the discernment of the discerning I will thwart." Where is the one who is wise? Where is the scribe? Where is the debater of this age? Has not God made foolish the wisdom of the world? For since, in the wisdom of God, the world did not know God through wisdom, God decided, through the foolishness of our proclamation, to save those who believe. For Jews demand signs and Greeks desire wisdom, but we proclaim Christ crucified, a stumbling block to Jews and foolishness to Gentiles, but to those who are the called, both Jews and Greeks, Christ the power of God and the wisdom of God. For God's foolishness is wiser than human wisdom, and God's weakness is stronger than human strength.
This is the Word of the Lord.
Thanks be to God.
*HYMN 450
"Be Thou My Vision"
SLANE
Words: Irish poem; trans. Mary E. Byrne, 1905; vers. Eleanor Hull, 1912, alt.
Music: Irish ballad; harm. David Evans © 1927 Oxford University Press
1 Be thou my vision, O Lord of my heart;
naught be all else to me, save that thou art;
thou my best thought, by day or by night,
waking or sleeping, thy presence my light.
2 Be thou my wisdom, and thou my true Word;
I ever with thee and thou with me, Lord;
thou my soul's shelter, and thou my high tower;
raise thou me heavenward, O Power of my power.
3 Riches I heed not, nor vain, empty praise;
thou, mine inheritance, now and always;
thou and thou only, first in my heart,
High King of Heaven, my treasure thou art.
4 High King of Heaven, my victory won,
may I reach heaven's joys, O bright heaven's Sun!
Heart of my own heart, whatever befall,
still be my vision, O Ruler of all.
SERMON
The Primacy of the Cross
Rev. Dr. Larry Hayward
*AFFIRMATION OF FAITH
Apostles' Creed
I believe in God the Father Almighty, maker of heaven and earth; and in Jesus Christ his only Son our Lord; who was conceived by the Holy Ghost, born of the Virgin Mary, suffered under Pontius Pilate, was crucified, dead, and buried; he descended into hell; the third day he rose again from the dead; he ascended into heaven, and sitteth on the right hand of God the Father Almighty; from thence he shall come to judge the quick and the dead. I believe in the Holy Ghost; the holy catholic church; the communion of saints; the forgiveness of sins; the resurrection of the body; and the life everlasting. Amen.
PASTORAL PRAYER AND THE LORD'S PRAYER
Our Father, who art in heaven; hallowed be Thy name. Thy kingdom come. Thy will be done; on earth as it is in heaven. Give us this day our daily bread. And forgive us our debts; as we forgive our debtors. And lead us not into temptation; but deliver us from evil; for Thine is the kingdom, and the power, and the glory, forever. Amen.
*DOXOLOGY
Words: Thomas Ken (1637-1711)
Music: Geistliche Kirchengesäng, 1623; harm. Ralph Vaughan Williams, 1906, arr. John A. Behnke (b. 1953)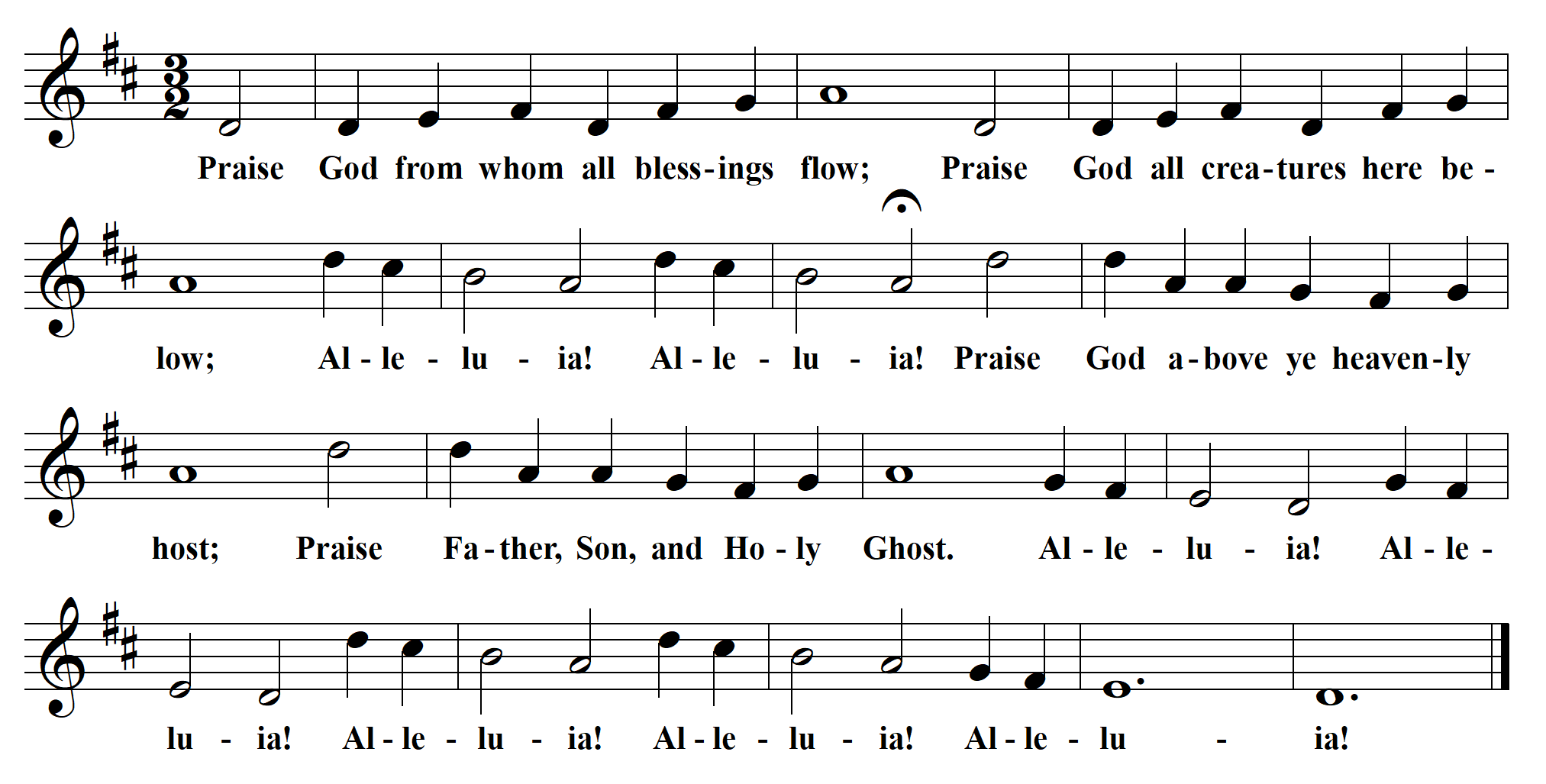 *HYMN 330
"Our Help Is in the Name of God the Lord"
OLD 124TH
Words: Martin Tel (b. 1967) © 2011 Martin Tel (admin. Faith Alive Christian Resources)
Music: Genevan Psalter, 1551
1 Our help is in the name of God the Lord,
the One who made the heavens with a word,
creator of the world, each living thing.
Come, bless the Lord, lift up your hearts and sing:
"Our help is in the name of God the Lord."
2 When evil seems to have the upper hand,
call on God's name: the Lord, the great "I am."
When troubles rise and all around gives way,
remember God stays with us night and day.
Our help is in the name of God the Lord.
3 Praise God the Lord who hears the captives' prayer.
Like birds escaping from the fowler's snare
we are set free; our praises now ascend:
"Blessed be the Lord: Creator, Savior, Friend.
Our help is in the name of God the Lord."
---
Worship Notes
Participating in today's service are Rev. Dr. Larry Hayward, Pastor; Rev. Patrick Hunnicutt, Associate Pastor; Dr. Ben Hutchens, Director of Music Ministries; Ms. Yeri So, Assistant Director of Music Ministries; Woody Davis, John Yoxtheimer, Ushers.
The Congregation is invited to fellowship in the Blomberg Courtyard after worship.
Today's flowers in the sanctuary have been given by Dave & Sue Aland in honor of their anniversary; and by Karin and Scott Edgell in memory of loved ones.
The cradle cross on the pulpit in the sanctuary today has been placed in honor of Jackson Ross Clover, born on September 9. Parents are Daniel Clover & Jenny Gibbs. 
Childcare for infants and preschoolers is provided on the second floor in the preschool wing. Please note that we are requiring masks for all those ages 2 and older while in the childcare area (including pick-up and drop-off). Thank you!
Thank you for joining us today! Whether you are exploring faith for the first time, seeking to reconnect with your faith, or searching for a church home, we welcome to Westminster all who seek to discover the significance and meaning of Jesus Christ in their lives.
If you are a visitor and would like to connect with Westminster, please fill out today's fellowship form to let us know that you're here! To learn more about church life and explore membership, New Member classes are held on first Tuesday evenings by Zoom or in person (alternative dates can be arranged). Feel free to contact any of our pastors directly or our New Member Elders (Jenny Graves, Kay Sidahmed, & Judy Grey) at [email protected]. We look forward to meeting and talking with you!
The green paraments today mark the season of Ordinary Time. Green symbolizes nature, life and the growth of Christian discipleship. 
Permission to podcast/stream the music in this service obtained from One License with license #A-724912.
Next Sunday
Sunday, October 3, 2021
Twenty-Seventh Sunday in Ordinary Time
World Communion Sunday
8:30am Worship in the Chapel
11:00am Worship in the Sanctuary & Online
6:00pm Choral Evensong in the Sanctuary
Led by the Westminster Choristers, Chamber Choir, and Youth
Sermon
The Godlessness of the Cross
Isaiah 5:14-55:3; Philippians 2:5-11
Rev. Dr. Larry Hayward
Lectionary Passages
Esther 7:1-6, 9-10; 9:20-22
Psalm 124
James 5:13-20
Mark 9:38-50