June 13, 2021
Eleventh Sunday in Ordinary Time
PRELUDE
Mache dich, mein Geist, bereit (Prepare thyself, my soul, watch and pray)
Johann C. Kitten (1732-1809)
Yeri So, organ

CALL TO WORSHIP
Our help is in the name of the Lord.
Maker of heaven and earth.
This is the day the Lord has made.
Let us rejoice and be glad in it. 
The grace of our Lord, Jesus Christ, be with you all.
And also with you.
Let us worship God.
*HYMN 846
"Fight the Good Fight"
DUKE STREET
Words: John Samuel Bewley Monsell (1811-1875)
Music: John Hatton (1710-1793)
1 Fight the good fight with all thy might.
Christ is thy strength and Christ thy right.
Lay hold on life, and it shall be
thy joy and crown eternally.
2 Run the straight race through God's good grace;
lift up thine eyes, and seek Christ's face.
Life with its way before us lies;
Christ is the path, and Christ the prize.
3 Cast care aside; lean on thy guide.
God's boundless mercy will provide.
Trust, and thy trusting soul shall prove
Christ is its life, and Christ its love.
4 Faint not nor fear: God's arms are near.
God changeth not, and thou art dear.
Only believe, and thou shalt see
that Christ is all in all to thee.
PRAYER OF CONFESSION
Rev. Dr. Larry Hayward
Almighty and merciful God,
We have sinned against you in thought, word, and deed.
We have not loved you with all our heart.
We have not loved others as our Savior Christ loves us.
We are truly sorry.
In your mercy forgive what we have been,
Help us to amend what we are,
And direct what we shall be;
That we may delight in your will
And walk in your ways,
Through Jesus Christ our Savior.
Please continue in silent prayer.
KYRIE ELEISON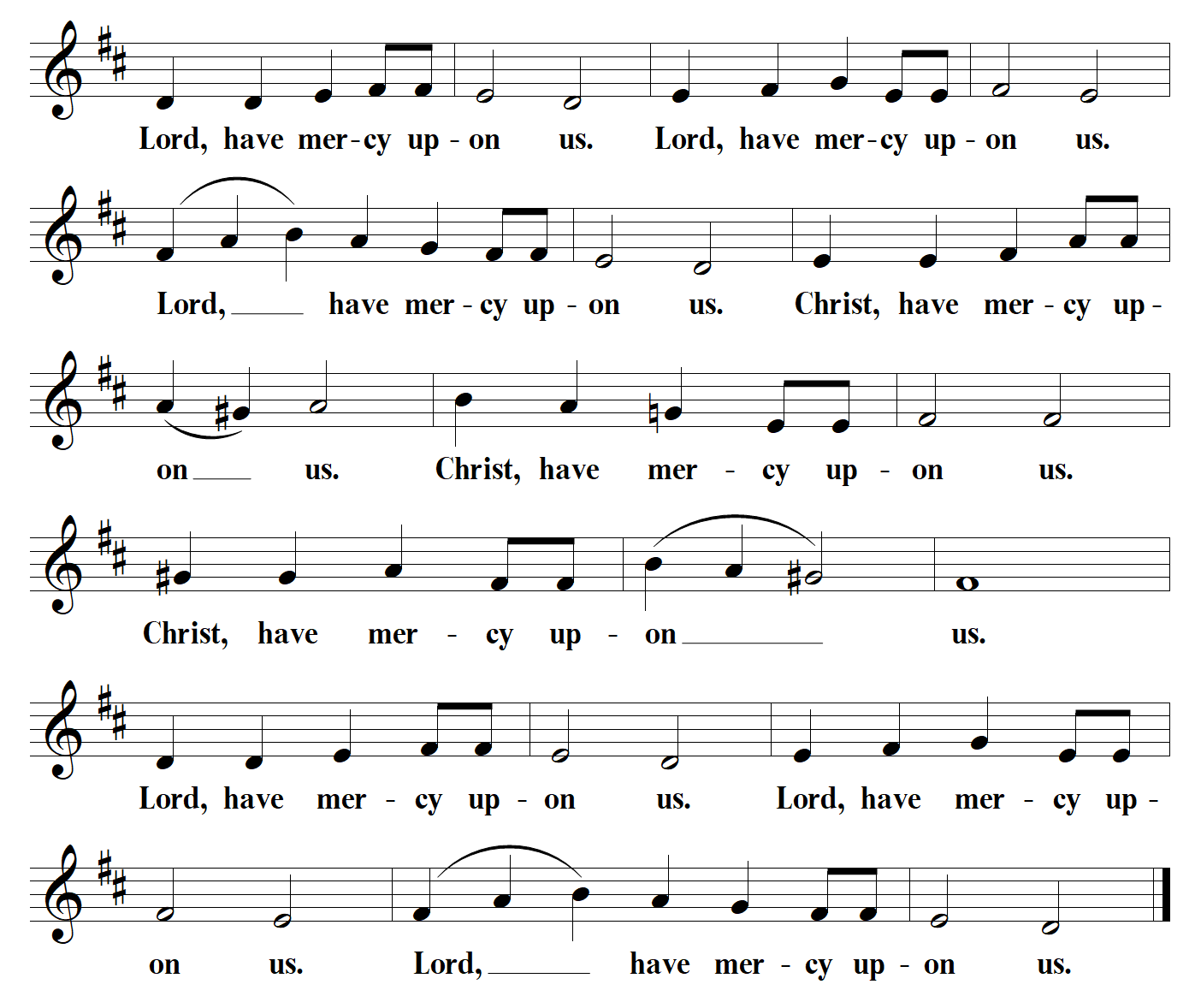 *GLORIA PATRI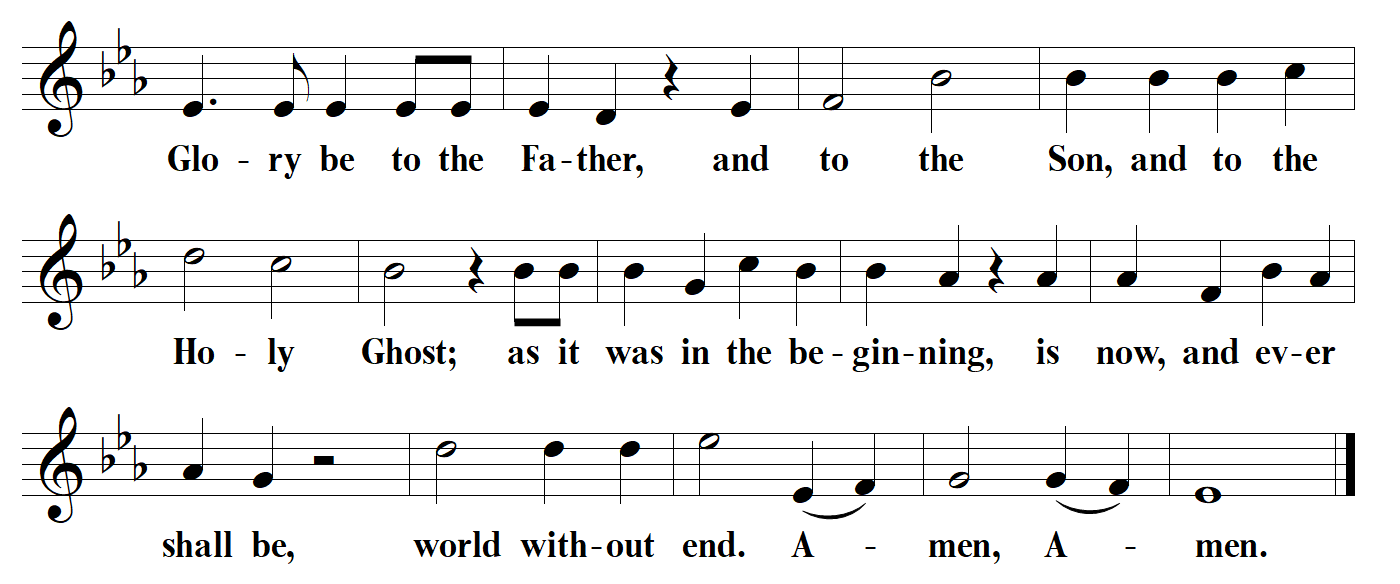 WELCOME AND LIFE OF THE CHURCH
---
CALL FOR OFFERING AND PRAYER OF THANKSGIVING
*DOXOLOGY

SCRIPTURE
Psalm 20
The Lord answer you in the day of trouble! The name of the God of Jacob protect you!
May he send you help from the sanctuary, and give you support from Zion.
May he remember all your offerings, and regard with favor your burnt sacrifices. Selah
May he grant you your heart's desire, and fulfill all your plans.
May we shout for joy over your victory, and in the name of our God set up our banners. May the Lord fulfill all your petitions.
Now I know that the Lord will help his anointed; he will answer him from his holy heaven with mighty victories by his right hand.
Some take pride in chariots, and some in horses, but our pride is in the name of the Lord our God.
They will collapse and fall, but we shall rise and stand upright.
Give victory to the king, O Lord; answer us when we call.
This is the Word of the Lord.
Thanks be to God.
RESPONSE

SERMON
Help from the Sanctuary
Rev. Patrick Hunnicutt
*HYMN 529
"Draw Us in the Spirit's Tether"
UNION SEMINARY
Text: Percy Dearmer, 1931, alt. © 1931 Oxford University Press.
Music: Harold Friedell, 1957. © 1957, ren. H. W. Gray Company (admin. Alfred Publishing Co., Inc.)
1 Draw us in the Spirit's tether,
for when humbly in your name
two or three are met together,
you are in the midst of them.
Alleluia! Alleluia!
Here we touch your garment's hem.
2 As disciples used to gather
in the name of Christ to sup,
then with thanks to God the giver
break the bread and bless the cup,
Alleluia! Alleluia!
so now bind our friendship up.
3 All our meals and all our living
make as sacraments of you,
that by caring, helping, giving,
we may be disciples true.
Alleluia! Alleluia!
We will serve with faith anew.
SACRAMENT OF HOLY COMMUNION
For those worshipping in-person, please return your communion cups to the recycle bin as you leave the sanctuary.
The Lord be with you.
And also with you.
Lift up your hearts.
We lift them to the Lord.
Let us give thanks to the Lord our God.
It is right to give our thanks and praise.
SANCTUS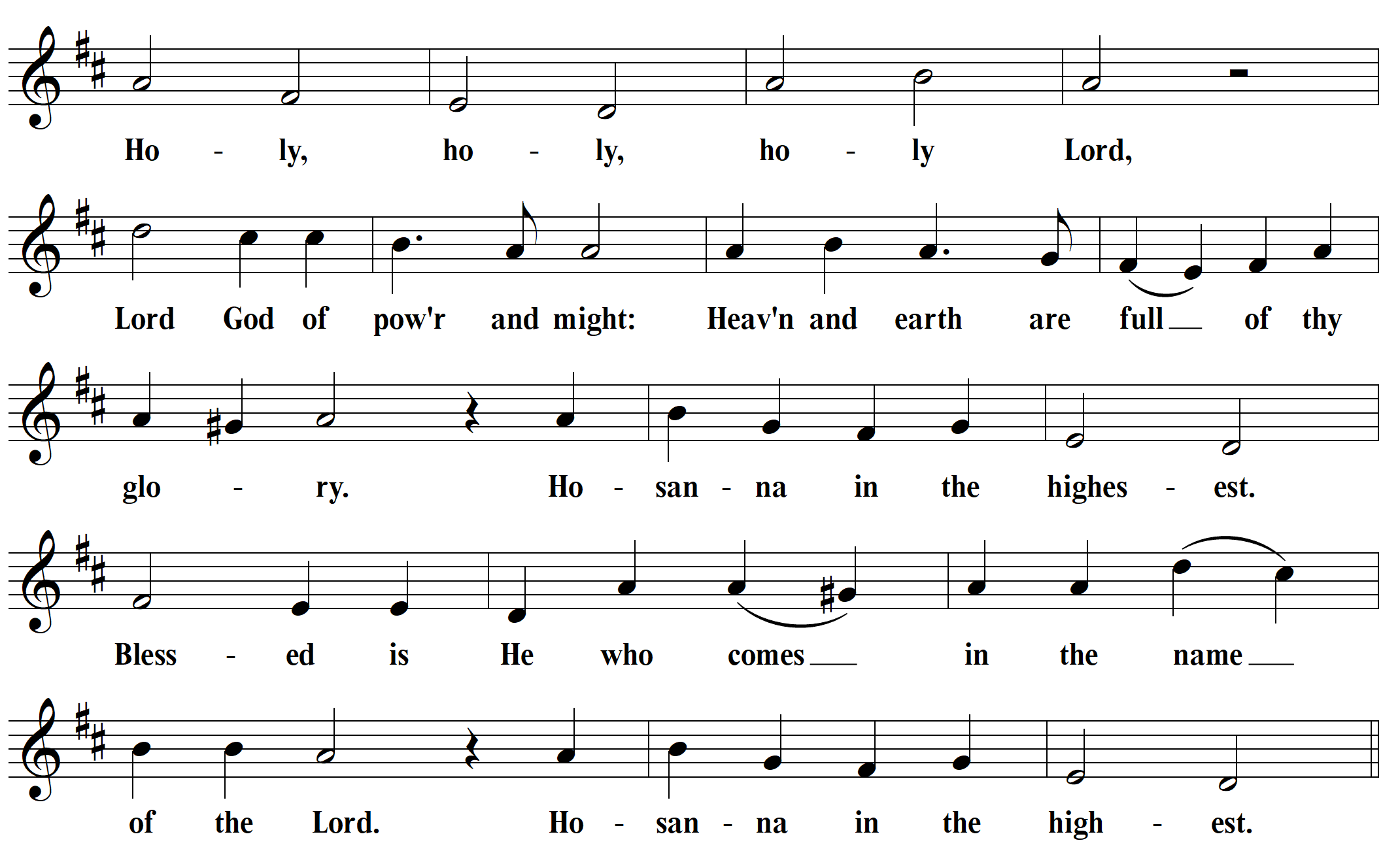 THE LORD'S PRAYER
Our Father, who art in heaven; hallowed be Thy name. Thy kingdom come. Thy will be done; on earth as it is in heaven. Give us this day our daily bread. And forgive us our debts; as we forgive our debtors. And lead us not into temptation; but deliver us from evil; for Thine is the kingdom, and the power, and the glory, forever. Amen.
ANTHEM
"How Beautiful Upon the Mountains"
John Carter (b. 1930)
How beautiful upon the mountains
Are the feet of him who brings good tidings
Who brings words of peace and salvation?
Break forth together into singing,
You waste places of Jerusalem,
For the Lord has comforted his people,
He has redeemed Jerusalem.
*HYMN
"How Firm a Foundation"
FOUNDATION
Words: "K" in John Rippon's A Selection of Hymns, 1787
Music: American folk melody; Funk's Genuine Church Music, 1832, alt.
1 How firm a foundation, ye saints of the Lord,
is laid for your faith in God's excellent Word!
What more can be said than to you God hath said,
to you who for refuge to Jesus have fled?
2 "Fear not, I am with thee, O be not dismayed,
for I am thy God, and will still give thee aid;
I'll strengthen thee, help thee, and cause thee to stand,
upheld by my righteous, omnipotent hand.
3 "When through the deep waters I call thee to go,
the rivers of sorrow shall not overflow;
for I will be near thee, thy troubles to bless,
and sanctify to thee thy deepest distress.
4 "When through fiery trials thy pathway shall lie,
my grace, all sufficient, shall be thy supply;
the flame shall not hurt thee; I only design
thy dross to consume, and thy gold to refine.
5 "The soul that on Jesus hath leaned for repose,
I will not, I will not desert to its foes;
that soul, though all hell should endeavor to shake,
I'll never, no, never, no, never forsake."
POSTLUDE
Jubilate Deo 
Gibbs Cecil Amstrong (1889-1960)
---
Worship Notes
Participating in today's service are Rev. Dr. Larry Hayward, Pastor; Rev. Patrick Hunnicutt, Associate Pastor; Yeri So, Assistant Director of Music Ministries; Janie Bryant, Felicity Hines, Kalista Hines, David Roden, Molly Roden, and Peter Roden, vocalists; Livestream team.
Today's flowers have been given by Tanya & Jack Pitzer in memory of their parents, Elizabeth & Joseph Driver and Kathryn & Walter Pitzer, and in celebration of 58 years together on June 22.
The in-person service is both livestreamed and recorded, and the congregation may be visible. We strive to ensure that our online service is positive and comfortable for all involved; please know that we will not knowingly or intentionally post video or recording that would be embarrassing, objectionable or hurtful to any congregants. If you have any questions, please contact the Digital Ministries Committee at [email protected]
Permission to print and stream the music in this service obtained from One License with license #A-724912.
The green paraments today mark the season of Ordinary Time. Green symbolizes nature, life and the growth of Christian discipleship. The paraments (the cloths that hang from the pulpit and communion table) are changed with the liturgical calendar, marking the seasons we observe throughout the year.
Childcare for infants and preschoolers is provided on the third floor (Creation Station room 302 and 304). Please note that we are requiring masks for all those over the age of 2 while in the childcare area (including pick-up and drop-off). Thank you!
If you need to leave the Sanctuary during worship, the service can be heard in the Narthex, Library, Library Lobby and Bride's Room off Fellowship Hall, or online at wpc-alex.org/live.
Visitor Information | Thank you for joining us today! Whether you are exploring faith for the first time, seeking to reconnect with your faith, or searching for a church home, we welcome to Westminster all who seek to discover the significance and meaning of Jesus Christ in their lives. If you would like to learn more about Westminster, the Presbyterian faith, and membership, we invite you to fill out today's Fellowship Form and we will be in touch!
Next Sunday
June 20, 2021
10:00am
Twelfth Sunday in Ordinary Time
Welcoming New Members
Sermon
Rev. Dr. Jacob Bolton
Lectionary Passages
1 Samuel 17:(1a, 4-11, 19-23), 32-49
Psalm 9:9-20
2 Corinthians 6:1-13
Mark 4:35-4 or 1 Samuel 17:57-18:5, 18:10-16
Psalm 133