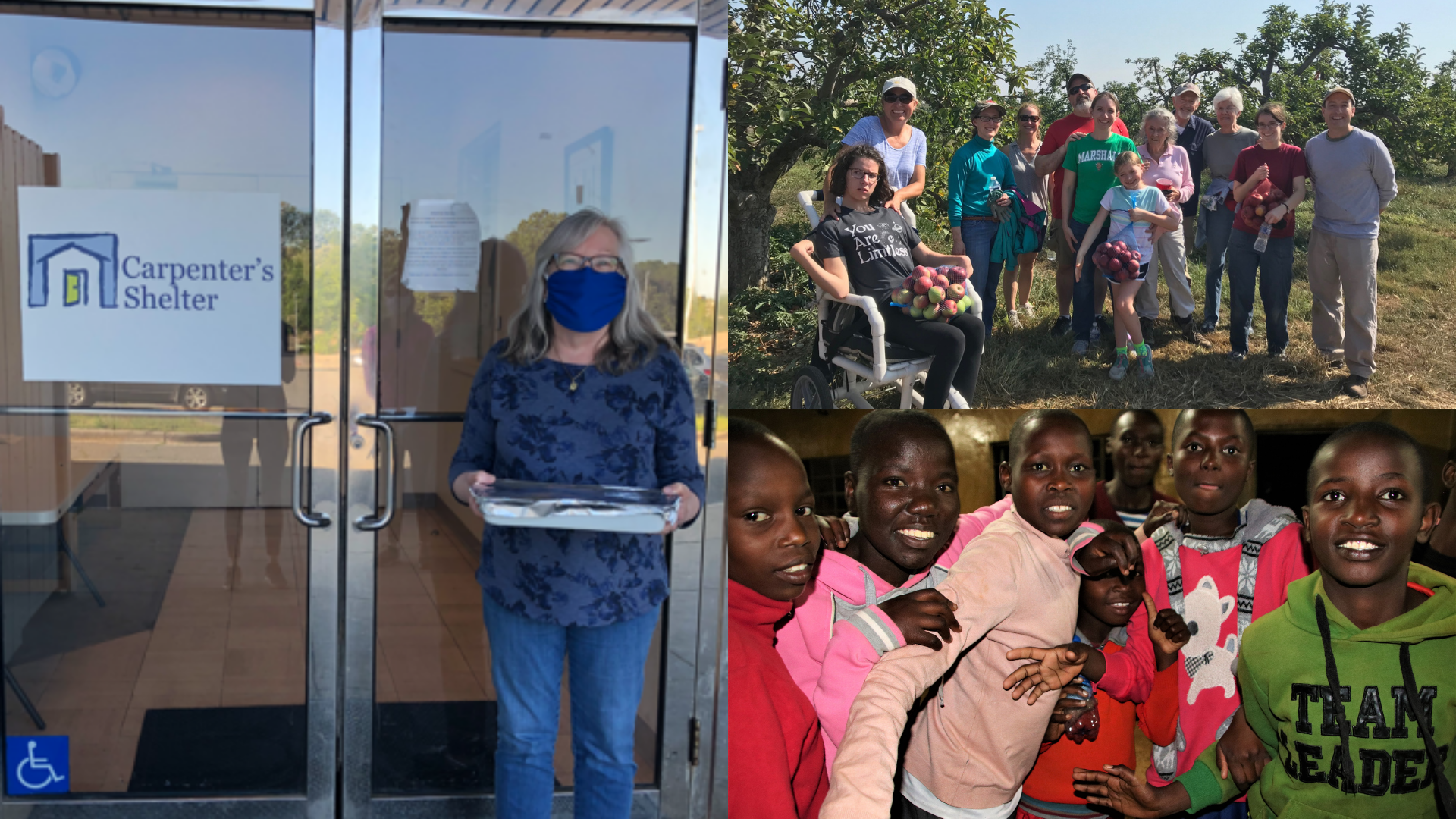 Serve
Westminster's mission work is coordinated by three committees: Local, National, and International.
Local Mission creates partnerships with community service organizations and nonprofits. Our local mission work is organized around the acronym CHESS: Children, Hunger, Education, Shelter, and Self-Sufficiency. The Local Mission Committee also sponsors the Westminster Community Grant Program, an annual award to local nonprofits to help further their missions.
National Mission currently focuses on three primary areas: housing rehabilitation in Appalachia with the Appalachia Service Project; regional hunger concerns through gleaning trips in connection with the Northern Neck Food Bank and the Society of St. Andrew; and support of Native American ministry and mission with the Bdecan Presbyterian Church in Spirit Lake, North Dakota.
International Mission works around the world through direct partnerships, through the Presbyterian Church, USA, and in cooperation with mission organizations. Westminster's international missions are primary focused on the United Orphanage & Academy in Moi's Bridge, Kenya, supported since its founding in 2001 by Westminster, Old Presbyterian Meeting House (Alexandria), and Lewinsville Presbyterian Church (McLean).
Serving in Our Communities: How to Help
Our local mission committee members are in close consultation with our local mission partners and keep this list of financial needs, donation requests and volunteer opportunities regularly updated. Please contact [email protected] if you have any questions.
---
Updated May 5, 2021
ALIVE! | Please visit this page to see the range of ALIVE volunteer opportunities including to support their extensive food security initiatives. ALIVE is planning on replacing its carpet in the main ALIVE office spaces. Anyone that wants to offer carpet donations or discounts, or help with carpet installation should contact Jennifer Ayers at [email protected].  
The Bag Lunch Program seeks WPC volunteers to make sandwiches and/or serve its daily lunches on selected dates. To sign up, go here, or  contact Kathy Stenzel if you can help.
Bridges to Independence | Bridges' drive to collect household and personal items and lunchbox food for Drew Elementary School students and families continues through the end of May; get the list here. Volunteers are needed to deliver donations from Bridges' offices to Drew Thursdays and Fridays; contact Celeste McKenzie at [email protected]. Bridges is participating in Do More 24 fundraiser on May 19; find more information here. If you would like to be a Bridges Ambassador for this event, contact Emmy Hamed at [email protected] for a social media toolkit.
Carpenter's Shelter has continuing needs for volunteers to staff the front desk, to assist with preparing and serving meals, and other needs.  They are also in need of some specific items (in-kind donations) which can be purchased via their amazon wish list and are seeking $25 Walmart or Target gift cards to give to residents as birthday gifts. Gift cards can be delivered or mailed to 901 N. Henry Street, Alexandria, VA 22314. For more information on any of these needs, including to schedule a drop-off appointment contact [email protected].  
The Child and Family Network Centers (CFNC) continues to welcome contributions to their amazon wish list.
Community Lodgings | Community Lodgings has an Amazon Wish List of non-perishable food item needs and continues to accept financial donations to support their ongoing distribution of Giant gift cards. Their "Signs of Hope" campaign has been very successful. To participate, order yard signs designed by youth in our programs (original artwork and themes). They are hosting an end-of year celebration for students graduating from Elementary, Middle, and High Schools on the soccer field at New Brookside (more details coming soon).

Friends of Guest House is in need of volunteer GED Tutors, Basic Computer Skills Teachers, and mentors ideally between ages 30-50 to support their mentorship program. Mentors help Guest House's women residents set goals, and develop the confidence, patience, and perseverance needed to reenter the community successfully. Mentees are typically 20-40 years of age, and have been incarcerated for substance-related issues rather than violent crimes. Training is provided.  Due to COVID, mentors have mostly virtual, email, and/or phone contact with their mentees.  For more information email Friends of Guest House or see the Friends of Guest House website volunteer page.   
Just Neighbors seeks those who are fluent in Spanish who can do translations from home. They also need volunteers who are willing to come into the office to do telephone intakes. Lastly, they are also looking for a detail-oriented volunteer/intern who can input data into their case management system. They have social distancing measures in place. Contact [email protected] if you can help. If you would like to watch the recent event WPC co-sponsored with Just Neighbors and Fairlington Methodist Church on recent updates to immigration policy, go here.

Neighborhood Health seeks donations of protective equipment and cleaning supplies.
OAR (formerly Offender Aid and Restoration) volunteer opportunities include administrative and computer work as well as assisting for court appearances. 

Rebuilding Together DC * Alexandria: save the date for June 26, 2021 National Rebuilding Day when teams of volunteers from companies, organizations, and houses of worship will come together to repair homes owned by individuals and families in need in Washington DC and Alexandria.
Senior Services of Alexandria has a continuing need for volunteers under 65 and in good health to deliver Meals on Wheels and/or to shop for and deliver Groceries to Go to vulnerable seniors.  If you are 70 or older, live in the city of Alexandria and have been unable to score a vaccine appointment, call Senior Services of Alexandria. They will help you make an appointment, 703.836.4414.  
To access additional volunteer and in-kind donation needs that support our local mission agencies and beyond, see Volunteer Alexandria and Volunteer Arlington. 
A Surplus of Mission
In February 2021, the Session designated $82,000 of Westminster's 2020 surplus funds to provide relief for those facing economic hardship in the pandemic. Grateful for the assignment, our local, national and international missions committees have collaborated to put your funds to great use.
Locally, we prioritized rental assistance and donated $20,000 to the Lazarus Ministry of Christ Church Alexandria, a participant in Alexandria's Eviction Prevention Program. In the last year, 99% of Lazarus funds went to those facing eviction or housing insecurity. We also donated $30,000 to fund the rental assistance program of Bridges to Independence, our long-time partner helping many in Arlington and neighboring communities.
Nationally, we donated $8,000 to the Covid-relief funds of the Candeska Cikana Community College (CCCC) on the Spirit Lake Indian Reservation in North Dakota. These funds provide emergency assistance (food, utilities, medical expenses, etc.) for students on the reservation, where Westminster also provides scholarships through our partnership with the Bdecan Presbyterian Church.
We also donated $8,000 (total) to our two gleaning agency partners, Society of St. Andrew and Healthy Harvest Food Bank. We look forward to the day when we can offer our hands in the fields as well as our funds to provide nutrition to the food-insecure.
None of this happens without the blessings you have so abundantly shared. We will let you know how the remainder of this mission surplus will help those in need.