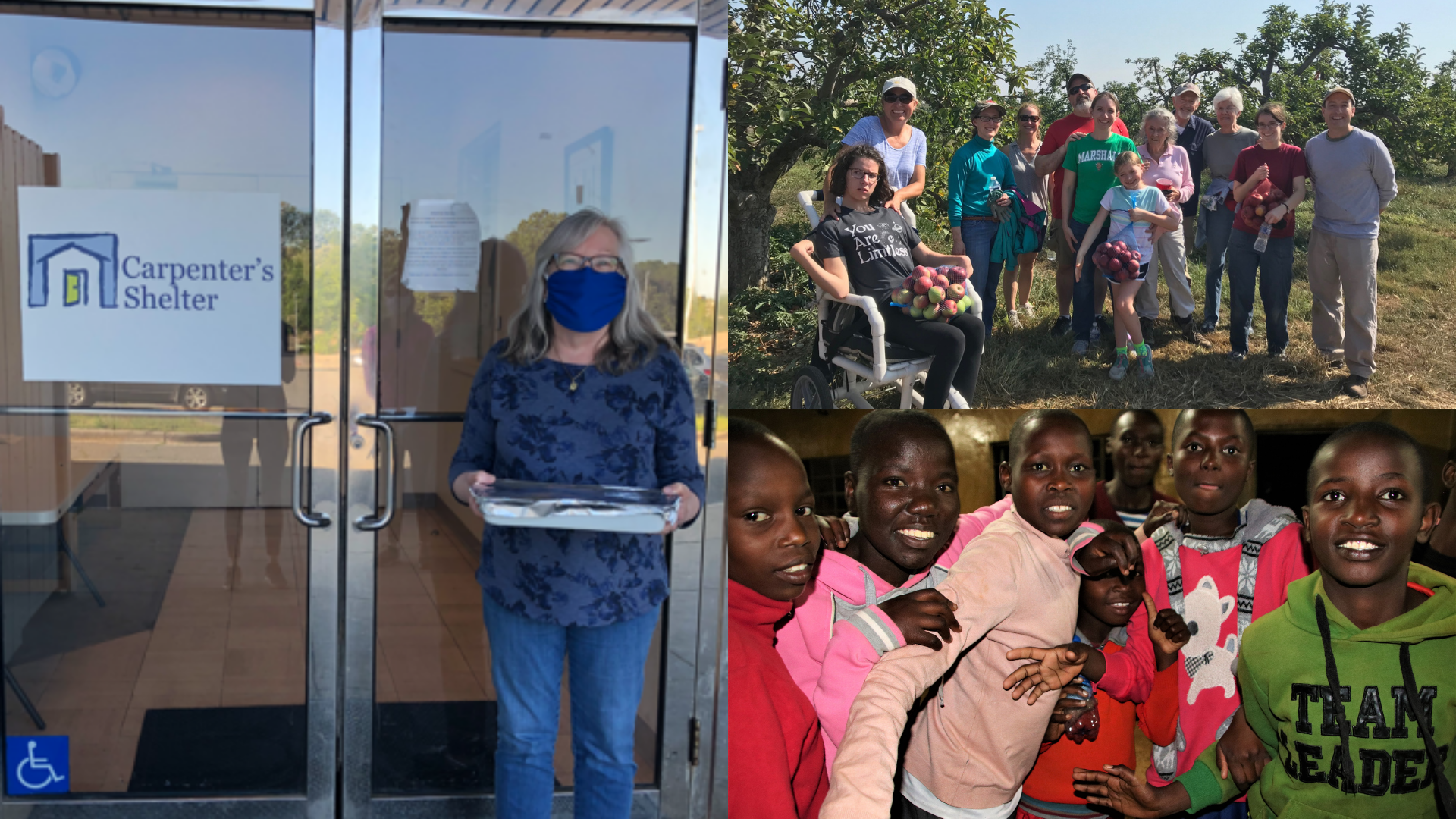 Serve
Westminster's mission work is coordinated by three committees: Local, National, and International.
Local Mission creates partnerships with community service organizations and nonprofits. Our local mission work is organized around the acronym CHESS: Children, Hunger, Education, Shelter, and Self-Sufficiency. The Local Mission Committee also sponsors the Westminster Community Grant Program, an annual award to local nonprofits to help further their missions.
National Mission currently focuses on three primary areas: housing rehabilitation in Appalachia with the Appalachia Service Project; regional hunger concerns through gleaning trips in connection with the Northern Neck Food Bank and the Society of St. Andrew; and support of Native American ministry and mission with the Bdecan Presbyterian Church in Spirit Lake, North Dakota.
International Mission works around the world through direct partnerships, through the Presbyterian Church, USA, and in cooperation with mission organizations. Westminster's international missions are primary focused on the United Orphanage & Academy in Moi's Bridge, Kenya, supported since its founding in 2001 by Westminster, Old Presbyterian Meeting House (Alexandria), and Lewinsville Presbyterian Church (McLean).

Alternative Giving Bazaar
We are thrilled to provide another opportunity for you to share gifts with loved ones that help those in need. This year's bazaar will be a hybrid event with both in-person and virtual ways to support the agencies and projects supported by our local, national and international missions committees. One such project is our long-time partnership with the United Orphanage and Academy in Kenya, which relies heavily on these gifts to provide education and shelter in these challenging times.
Please take a look and consider making a gift on behalf of those you love to help those whom God deeply loves.
Serving in Our Communities: How to Help
Our local mission committee members are in close consultation with our local mission partners and keep this list of financial needs, donation requests and volunteer opportunities regularly updated. Please contact [email protected] if you have any questions.
---
A Surplus of Mission
In February 2021, the Session designated $82,000 of Westminster's 2020 surplus funds to provide relief for those facing economic hardship in the pandemic. Grateful for the assignment, our local, national and international missions committees have collaborated to put your funds to great use.
Locally, we prioritized rental assistance and donated $20,000 to the Lazarus Ministry of Christ Church Alexandria, a participant in Alexandria's Eviction Prevention Program. In the last year, 99% of Lazarus funds went to those facing eviction or housing insecurity. We also donated $30,000 to fund the rental assistance program of Bridges to Independence, our long-time partner helping many in Arlington and neighboring communities.
Nationally, we donated $8,000 to the Covid-relief funds of the Candeska Cikana Community College (CCCC) on the Spirit Lake Indian Reservation in North Dakota. These funds provide emergency assistance (food, utilities, medical expenses, etc.) for students on the reservation, where Westminster also provides scholarships through our partnership with the Bdecan Presbyterian Church.
We also donated $8,000 (total) to our two gleaning agency partners, Society of St. Andrew and Healthy Harvest Food Bank. We look forward to the day when we can offer our hands in the fields as well as our funds to provide nutrition to the food-insecure.
None of this happens without the blessings you have so abundantly shared. We will let you know how the remainder of this mission surplus will help those in need.