Advent Lessons and Carols
Friday, December 6 & Sunday, December 8
Friday, December 6 | 7:30 PM in the Sanctuary
Sunday, December 8 | 8:30 AM Worship in the Chapel & 11 AM Worship in the Sanctuary
At all services, we will tell again the story—of the prophets of Israel and how they foretold that God would visit and redeem the waiting people—with scripture readings and congregational singing. The Friday evening and 11AM Sunday morning services feature brass and organ along with our choirs of adults, children and bells.
Longest Night Service
Saturday, December 21
7:30 PM Worship in the Chapel
For many, the Christmas season is a particularly difficult one. On this shortest of days, we will worship and reflect on what it means to dwell in the darkness of night. Together we will lift up our whole selves to the Lord, asking that God's light would shine in our darkest places.
Festival Sunday with Brass
Sunday, December 22
8:30 AM & 11 AM Worship in the Sanctuary
The Old Town Brass Quintet joins us for this annual Advent celebration service.
Christmas Eve Services
Tuesday, December 24
At each of our services, hear the story of Christmas and sing familiar Christmas hymns, accompanied by organ, including "Silent Night" and "Joy to the World." Children are welcome at all our services; the 4 PM service is our "family-friendliest" service.
11 AM Worship in the Sanctuary
Childcare available
4 PM Worship in the Sanctuary
Note new time this year!
8 PM Worship in the Sanctuary
7:45 PM Prelude
11 PM Worship in the Chapel
10:45 PM Prelude with harp
Sunday, December 29
11 AM Worship in the Sanctuary (one service only)
---
Weekly Advent Devotional
Through the four weeks of Advent, we encourage you to use this weekly devotional to prepare for the celebration of Christ's coming into the world. Written by the staff and members of Westminster, experience Advent though Scripture, song, art, mission, and prayer. Pick up a paper copy each Sunday in Advent and on Christmas Eve, or experience it online at wpcadvent.com.
Exclusion and Embrace in Advent
Sundays, December 1, 8 & 15
9:45-10:45 AM in Haverkamp Room
Join Pastor Whitney for three weeks in Advent as we explore the lectionary readings in the Gospel of Matthew in conversation with Mirasolv Volf's book Exclusion and Embrace. What does it mean to welcome Christ and the reign of God in light of scriptures that speak to God's judgment? How do we understand our identity and boundaries in a world that can often seem so divided and so unsure of how we live together? Let's explore what it means to embrace the Christ Child together in this time.
Centering Prayer
Mondays, December 2, 9 & 16
4-5 PM in Westminster Room
Using this ancient form of being together in prayer, take time during the busy season of Christmas to be in prayer reflecting on scripture, readings and being together in silence. Led by Amey Upton and the Rev. Jean Coyle, WPC Parish Associate.
Boxwood Worshop
Tuesday, December 3 & Wednesday, December 4
9:30AM and 7:30PM in Fellowship Hall
Come to one session or all four to make holiday décor: boxwood wreaths, centerpieces, tabletop trees, candlestick arrangements, kissing balls, and more. Cost of making items from $18 to $38. Extra materials, bows made to order. Email Madeline Ramsey at [email protected] to reserve a place or to inquire if you have questions. Childcare available at the Wednesday morning session.
Alternative Giving Bazaar
Sundays, December 8 & December 15
Fellowship Hall following the 11 AM service
The Alternative Giving Bazaar provides a great opportunity to honor friends and family by giving gifts in their names to any of almost two dozen organizations supported by the Local, National and International Mission Committees at Westminster. These gifts will reach deserving people in our community, nation and around the world.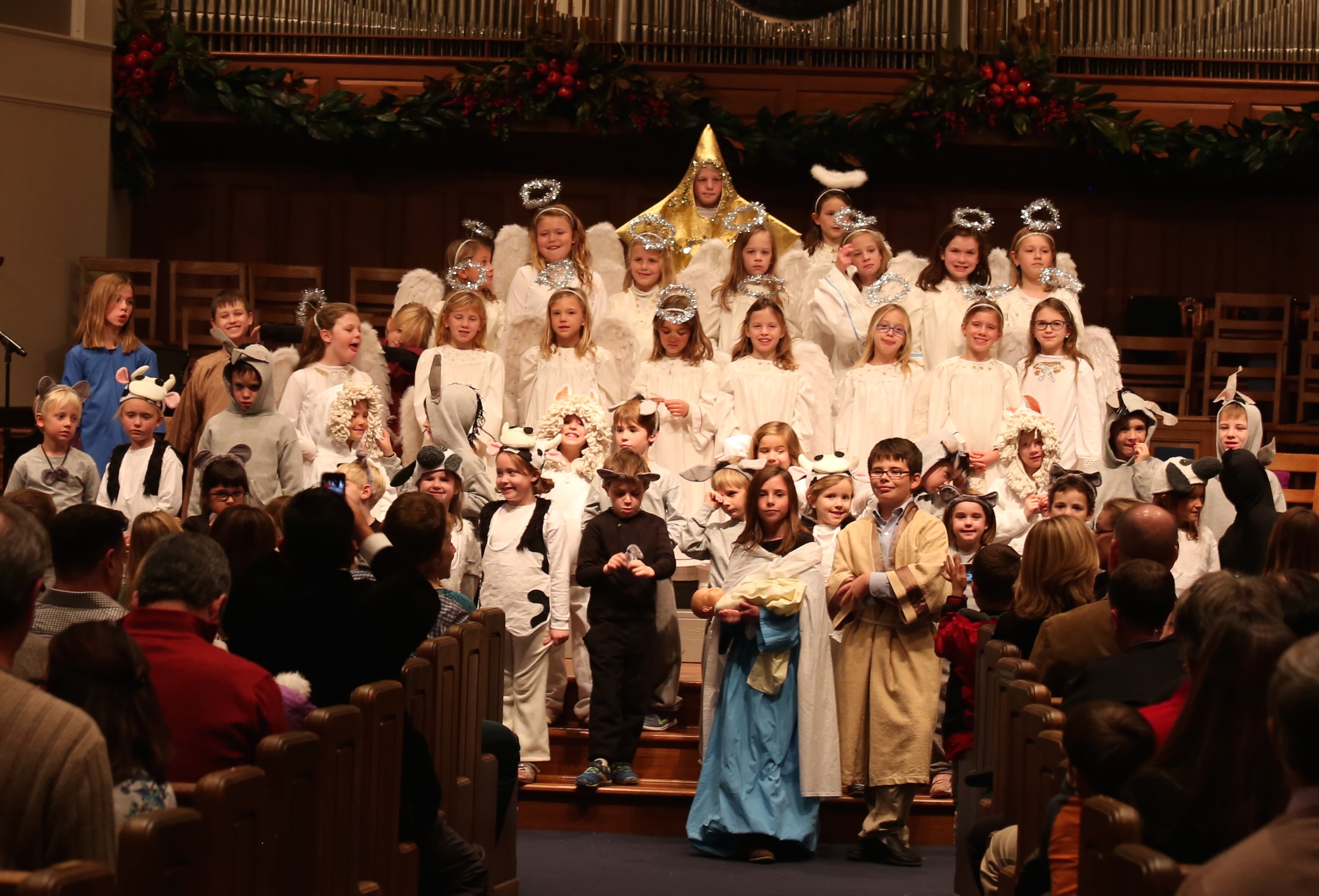 Christmas Pageant & All-Church Dinner
Sunday, December 15
5 PM in the Sanctuary
Come see our children tell the Christmas story, then enjoy dinner together! Enjoy pasta, salad, and dessert for $5/person for all age 5 and above, and free for children age 4 and under. The Westminster Youth will be cooking and serving this year's dinner–funds from the dinner will help to offset the cost of their 2020 mission trips in San Juan, Puerto Rico and Washington, D.C. 
Children in Grades K-5 can sign up to participate in the pageant here.
Boar's Head Feast
Saturday, January 11
6 PM in Fellowship Hall
We've all sung "The Twelve Days of Christmas"–mark the end of those twelve days with a Boar's Head Feast! We return for a second year with this fun-filled meal with entertainment for all ages, provided by the Westminster Choir.
Christmas Flowers and Mission Giving
Honor or memorialize loved ones with a dedication in the Christmas bulletins. In addition to providing flowers in the Sanctuary, donations will support our National Mission efforts through Presbyterian Disaster Assistance. Please mark your payment for "Christmas Flowers." No minimum/maximum donation required. Contact Jessica Thurnes with your dedication by Monday, December 9.
Christmas Joy Offering
This PC(USA) Offering is shared by the Assistance Program of the Board of Pensions, which provides critical assistance to Presbyterian church workers and their families; and Presbyterian-affiliated racial ethnic schools and colleges, which enable students to develop their gifts and find their calling. Remember our support to these two vital services as we seek to honor every child of God this Christmas season. Envelopes in the pews.
---
Holiday Office Hours
Tuesday, December 24: 8:30AM–12PM
Wednesday, December 25 & Thursday, December 26: Closed
Friday, December 27, Monday, December 30 & Tuesday, December 31: 9AM–3PM
Wednesday, January 1: Closed
Thursday, January 2: Normal office hours resume